News from Lyle Gateway
Apart from the Holiday Club week (9th August) Gateway will be open each Tuesday during
the summer months from 10.30am - 12.30pm. No lunches but tea coffee and biscuits available. All welcome!
________________________________________________________________________
For more information on Book Club click on image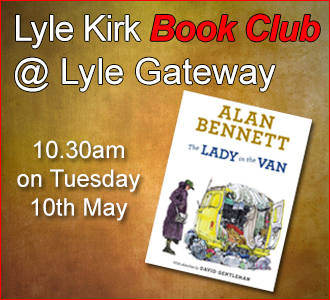 ____________________________________________________________________
Gateway is having a trial extension of opening hours on Tuesdays between 1.30 and 3pm starting on Tuesday 19th April till June. There will be an opportunity to experience
Karpet Kurling and Short Mat Bowls. Tea, Coffee, Juice & biscuits will be available. If you have been unable to attend the morning sessions then try the afternoon for some new
activity experience and enjoyable company! Or perhaps you would like to help in the cafe.
All are welcome!
March 2016 Photos
A very busy Gateway, minister Rev Owen Derrick playing table tennis with his wife Dianne, also players trying the new Kurling game.
Photographer Jim Crawford
_________________________________________________________________________
Lyle Gateway reopened after the Christmas break on Tuesday 5th January, 2016. Despite the wintry weather attendances have been excellent with good support for the various activities on offer. 
Lyle Gateway has been awarded a grant of almost £6,500 from the Big Lottery Fund through Awards for
All Scotland. These funds will be used to extend our project by adding more activities and longer hours of opening. It will also finance the purchase of specialist furniture such as acoustic screens to allow more
activities to take place simultaneously together with tables and chairs for the cafeteria area.
Indoor bowling equipment will soon be available and this will be supplemented by indoor curling, known as 'Kurling'. Both these activities will be offered initially for recreational rather than competitive play. We would welcome a volunteer to develop these activities.
The Committee also plan that Gateway will continue after lunch for a trial period starting at an early date. 
Tea, Coffee and Biscuits will be available during these extended times.  
We look forward to welcoming new visitors and trust that many regulars will try their hand at these new activities.
The Annual General Meeting of Lyle Gateway will be held at 1.00pm on Tuesday,  8th March. Members and friends of Lyle Gateway are invited to come along and hear what has happened in the past year and what is planned for the 2016/2017.   

 Lyle Gateway appreciates the support provided by Awards for All Scotland 
______________________________________________________________________________
Photo Gallery

___________________________________________________________________________
_________________________________________________________________________________