Greenock Philharmonic Choir
News

____________________________________________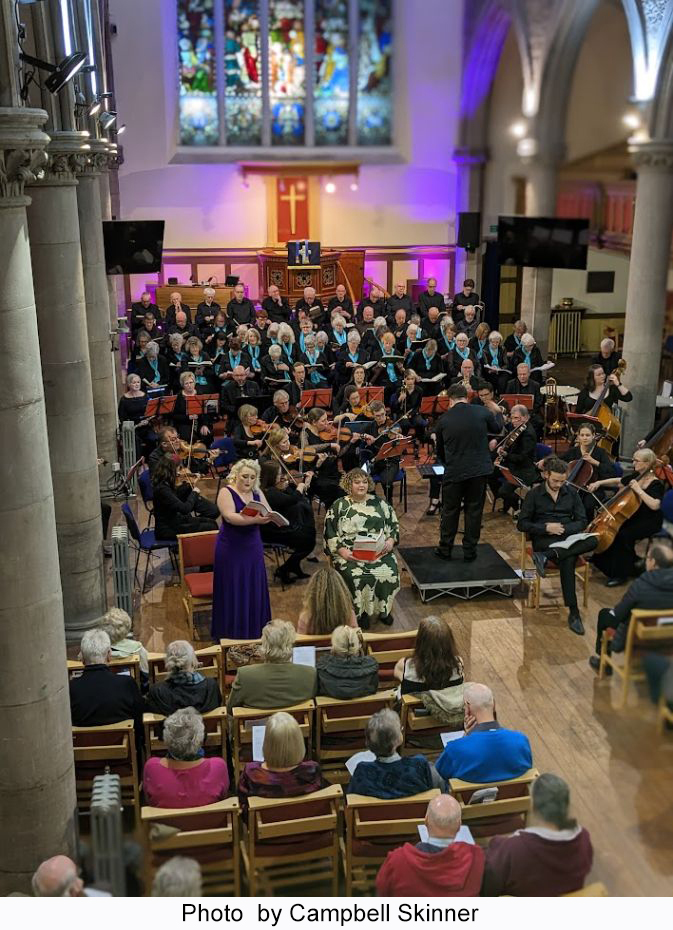 About us
We are a mixed voice choir based in Greenock, passionate about music and choral excellence.
We perform music including oratorio, classical and standard works, and have become an
important and well-established part of the musical fabric of Inverclyde.


Have a look at this gallery of photos illustrating our different events from our website:
We generally perform twice a year, at Christmas with appropriately seasonal music, and in
Spring concert with an orchestra, beginning with a Come & Sing at the beginning of the
season and a fundraising event is held in early spring.


Rehearsals take place from September to March, at Lyle Kirk, Union Street, Greenock PA16
6DD, every Monday evening from 7.15pm to 9.15pm.


We don't hold auditions. Music reading skills are preferred, although there are practising aids
available for those who are a bit less fluent. Further information about how to join is available
We now welcome our new director Nick Wilks who, with his wife, recently moved to Scotland.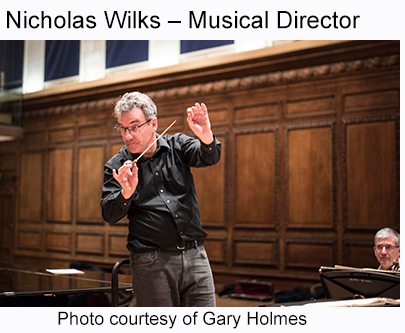 Nick has had considerable experience directing choirs and teaching choral music both in
England and more recently in Scotland. He trained as a treble Quirister (full time boarding
chorister at the school) in Winchester College Chapel Choir between the ages of 10 and 13
and was a music scholar at Cranleigh School before reading English at Oxford where he
founded the Oxford Philharmonia (now the Oxford University Philharmonia).


He studied conducting as a postgraduate with Colin Metters, George Hurst and John Carewe at
the Royal Academy of Music before holding a number of musical directorships, He also sang
with A Capella Portuguesa, conducted the premiere of Alec Roth's "Earth and Sky" at the BBC
Proms and worked with Sir Colin Davis on the premiere of Piers Hellawell's "Do Not Disturb",
commissioned for the Finchley Children's Music Group by the London Symphony Orchestra.
His CD for Somm of Britten's "Noye's Fludde" and "A Ceremony of Carols" was a Sunday
As Master of Music (Director of Music) at Winchester College, he directed a range of choral
works, including the Monteverdi Vespers, the Brahms Requiem with Kiri Te Kanawa, and
Mendelssohn's "Elijah" with Bryn Terfel, as well as developing the college's outreach
programme with such initiatives as a project in care homes for music and dementia, and
community choral concerts with local schools and choirs. He has recently moved to North
Ayrshire from Hampshire, volunteers with the Big Noise in Govanhill and sings with the
Hebba Benyaghla - Accompanist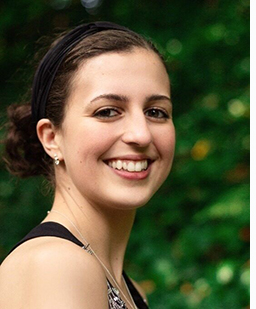 ©
2021 Hebba Benyaghla
Hebba Benyaghla is an active pianist and chamber musician based in Glasgow and a graduate
of the Royal Conservatoire of Scotland where she completed her Undergraduate and Master's
degrees. She was the first recipient of the Principal's Scholarship, studying with Prof. Aaron
Shorr and Graeme McNaught.


Hebba enjoys a diverse musical career, working with many of Scotland's National companies
including Scottish Opera, The National Youth Choirs of Scotland, RSNO Chorus and Junior
Chorus, and as an accompanist and Lecturer in Piano for the Royal Conservatoire of
Scotland's Junior Department.


This year Hebba was selected as a Britten-Pears Young Artist in Collaborative Piano 2022/23
and has been a member of the London Sinfonietta Academy and an Associate of the London
Philharmonic Orchestra's Foyle Future Firsts 2021/22.


Hebba maintains a keen interest in music education and regularly collaborates with Music Co-
Operative Scotland (McOpera) in their Education and Outreach Projects, as well as performing
as part of the McOpera Chamber Ensembles. An advocate of contemporary music, Hebba
enjoys working closely with composers and has given world premieres of many works
including performances in the Royal Conservatoire of Scotland's International Piano Festival,
SONIC Arts Night and was repetiteur for the Lammermuir Festival's Community Opera
.
Concerts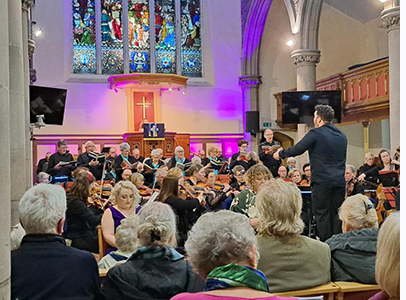 In recent years, these have included performances of Haydn's Creation, John Rutter's Feel the Spirit, and Mozart's Requiem. This past Spring Concert we performed Mendelssohn's 'Elijah' under our director Andy McTaggart together with members of the Glasgow Concert Orchestra and four fantastic soloists Catriona Hewitson, Penelope Cousland, William Searle, and Ross Cumming. Christmas concerts always provide an evening of celebration with a selection of traditional and contemporary carols, songs, and short classical and contemporary works. This year we were joined by the Riverside Youth Band who also entertained us with delightful selections of seasonal music under their director Mark Good.
Come & Sing : The choir recently held a Come and Sing event in Clark Memorial Church, Largs. We rehearsed and then performed a shortened version of Mendelssohn's oratorio 'Elijah' in a day under our conductor Andrew McTaggart.
Our next Come and Sing in August will be under our new Musical Director, Nick Wilkes.

Fundraising events : This year we enjoyed an evening with Andy, together with three friends 'Songs of Night and Day'. The evening was sold out and very successful both for its entertainment and raising funds for the choir.



Forthcoming events 2023-2024:

Come and Sing: 19th August 2023 at St John's Episcopal Church, Union Street, Greenock.

Start of the new session:Monday, 4th September at 07.15pm. Lyle Kirk - AGM and a sing-along

Christmas Concert : 16 December 2023. Lyle Kirk, Union Street, Greenock

Spring Concert : 23rd March 2024. Lyle Kirk, Union Street, Greenock