Thank you for considering Lyle Kirk for your wedding. Below are a few photos of recent weddings and some interior photos of our beautiful church on Newark Street. Further down is a guide to being married in church. If you would like to arrange a viewing of the church and meet our Minister, the Rev. Owen Derrick, please email minister@lylekirk.org
We look forward to hearing from you and hosting your big day!

A Guide to being married in church
This has been prepared to help couples interested in being married in the Lyle Kirk. If you would like more information, or would like to book your wedding, please contact the Minister
Registered Scottish Charity No SC010818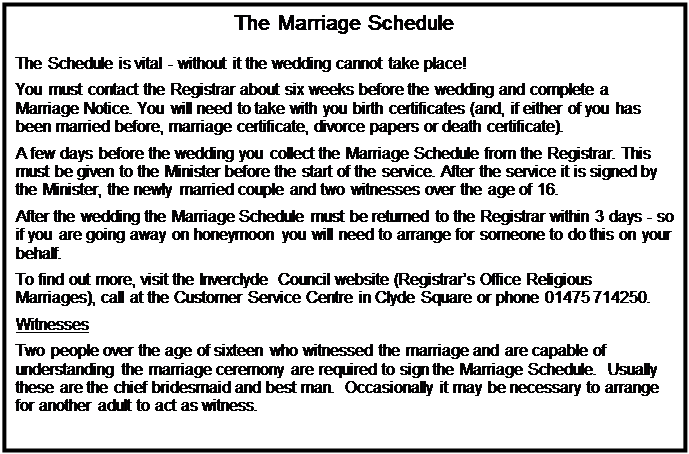 Marriage
Different cultures and different eras look differently at roles within marriage and at the difference the marriage ceremony makes to people's lives.
The church did not invent marriage and the wedding ceremony, nor are they to be found only among the Christian community.  Rather they seem to be part of every culture, and to have a very long place in human history, though different cultures have different understandings of what marriage means for the individuals concerned.
As part of the world-wide church of Jesus Christ, we believe that God approves of marriage, but we also believe that God wants it to be a place of caring, sharing and commitment to each other.
Being married in church, in the presence of God, does not guarantee that marriage will be easy and wonderful, but it reminds us of God's promises that God will be with us and help us through all the difficult times.
Before you book anything
As you begin to explore the possibility of marriage, you should consider pre-marriage discussions our Minister offers for couples.  These sessions – there are normally 6 one-hour sessions spread over as much as 3 months – look at your personalities and expectations, and help you to anticipate those areas of married life that might be a challenge for you as a couple.  They also help you to celebrate your strengths and show you those areas where you can lean on each other.
The classes are based on an online questionnaire.  No one but the Minister gets to see the results, and they form the basis of the discussions.  Many couples find these sessions very helpful.
The scoring of the questionnaire costs £25. There is no charge for the discussion time.  There is no requirement to do this; the Minister will still be happy to perform your service.  However, in the grand scheme of the cost of a wedding, don't you think £25 is not an unreasonable investment in your relationship?
Booking the wedding
Contact the Minister after the service on Sunday, or by telephone on 01475 717229, or by email at Minister@lylekirk.org to arrange a meeting to discuss matters further.
You do not need to be a member of this or any church to be married in Lyle Kirk. However, your marriage here will be a service of Christian worship and we hope that it will help you express your love, your commitment and your faith.
If you are not a member of Lyle Kirk, or you live outside the Parish, you will be asked first to contact your own Parish Minister who has the right to insist that if the wedding is to be in the Church of Scotland, it must be conducted by him/her in his/her church. In most cases your Parish Minister will have no objection to the wedding being in Lyle Kirk.
Fixing the date and time
You probably have a specific date in mind, and usually there is no problem in arranging the wedding on your preferred day. However, should either the Minister or the church not be available that day, it may be necessary to choose either an alternative day or venue.
Most weddings begin at 2.00pm, 2.30pm or 3.00pm. When choosing the time take into account the following factors:
are there going to be any evening guests? It is better to have the meal and speeches finished at least 15-20 minutes before the evening guests are due to arrive. It is also annoying for a band or disco if they have to hang around before they can set up their equipment

when do you aim to eat? Check with the venue for your reception when you aim to eat and how long they expect the meal and speeches to take

allow time for people to meet, chat and mingle before they eat

allow time for travelling to the Reception

allow ample time for photographs at the church and elsewhere
(If necessary details of the timing can be adapted nearer to the date as details of the day become clearer).
The Service
Order of Service
It is a matter of choice, and budget, whether you have a printed Order of Service. Many people do have them, but some prefer to use hymn-books. Some Orders of Service indicate where the prayers, readings etc. come.  Most simply have a copy of the words for the hymns, and perhaps the names of the Processional and Recessional music.
If you have a printed Order of Service, it may be necessary for you to obtain permission from the copyright holder to reproduce the words of hymns.  You should let the Minister see a copy of the draft Order of Service before going to print.
The full Order of Service is set out below.  Items usually specified in a printed version are shown in bold.
Processional (state what the tune is)
Call to worship
Hymn (print the words)
Statement
Prayer
Reading
Homily
The Marriage:
          Exchange of vows (see below)
          Giving and receiving of rings (see below)
          Declaration of marriage
          Marriage blessing
Prayer and Lord's Prayer
Hymn (print the words)
Blessing
Signing of the Marriage Schedule
Recessional (state what the tune is)
The length of the service
About 30-40 minutes, including time for signing the Schedule.
Vows
A copy of the usual form of vows is included below.  You will have the opportunity to pick which set of vows you wish to take. For those who are interested, there is no promising 'to obey'.
Option 1

I, A…

Take you, B…

To be my wife/husband,

In the presence of God,

And this congregation,

I promise and covenant

To be a loving, faithful

And loyal husband/wife to you

So long as we both shall live.

Option 3

Before God,

And in the presence

Of our families and friends,

I, A…

Declare my love for you, B…

And give myself to you,

As your husband/wife.

I promise you my love,

My loyalty and my trust

For as long as we both shall live.

Option 2

In the presence of God,

And before these witnesses,

I, A…

Give myself to you, B…

To be your wife/husband,

And to take you now

To be my husband/wife.

I promise to love you,

To be faithful and loyal to you

For as long as we both shall live.

Option 4

In the presence of God,

And before these witnesses,

Do you, A… give yourself to B…

To be her/his husband/wife

And take her/him now to be your wife/husband?

Do you promise to love her/him.

To be faithful and loyal to her/him

For as long as you both shall live?
Giving and Receiving of Rings
Option A
As a token of these promises and as a symbol of your marriage, this/these ring(s) is/are given and received.
May this ring/these rings be to you a sign of the endless love you have pledged to each other this day.
Option B
B…, I give you this ring in God's name as a symbol of all that we have promised and all that we share.
The central part is the Exchange of vows, after which the Minister declares you to be husband and wife. Around that are hymns, readings from the Bible, a homily from the Minister and prayers. At the end of the service the Bridal Party sign the Marriage Schedule, before processing out of church.
The Minister who is conducting the service has the final decision on its shape and content.  Requests for particular hymns, readings or for a friend or relative to read should be discussed with the Minister ahead of time.
 Other items relating to the Wedding Service
Flowers
It is customary to have flowers in church at a wedding, but it is not compulsory. What you have will depend on your taste and budget. Discuss your thoughts with your florist. We can arrange for them to have a look at the church if they wish to plan their arrangements. Access for the florist on the day of the wedding or the previous day must be arranged in advance.
At the end of the service you may take away the flowers if you wish.  Alternatively, you may leave them in church for the Sunday service, after which they will be taken to sick, elderly or bereaved people in the congregation.  Nearer to the day of the wedding you will be asked whether you are taking or leaving the flowers (then we know whether we need to buy or arrange some for Sunday morning.)
Photographs and Video
It is your special day, and you may wish to have it recorded on film, but it is also an act of worship, so any filming must be unobtrusive.
Photographs: We permit a photographer to take photos during the wedding, provided that there is no flash photography and that photographs are not taken during hymns, prayers or readings. Please ask your guests to refrain from taking photographs during the service.  Some couples include this request in their Order of Service.
Video: The service may be recorded provided that the person taking the video does not move about, and they have obtained permission from the Copyright-holder to record any hymns or music. Extra lighting should not be brought to the church. There is also an extra fee payable to the Organist if the service is recorded.
Parking
There is substantial car parking in Newark Street, and limited parking in the church grounds for the bridal cars and those with mobility problems.
Confetti
Confetti should not be thrown in the church or grounds, as it makes an awful mess, especially on a wet Greenock day! Please notify your guests.  Some couples include a note about this in their Order of Service.
Mobile phones
Remind your guests to turn pagers and phones off, or put them in silent mode, during the service.  Again, some couples put a notice about this in their Order of Service.
Rehearsal
A rehearsal can be arranged for a few days before the wedding to familiarise the main people involved with where they will stand, what will happen etc.
On the day
The church will be opened about 45 minutes before the service.

You should arrange ushers to show people where to sit, and hand out hymn books/Orders of Service.
Music
It is customary to have hymns and music at weddings in church, but it is not compulsory.
The usual musical items are:
music played quietly before the bride arrives (usually the organist's choice)

Processional music for the entry of the Bridal Party

opening hymn

closing hymn

music played quietly while the Marriage Schedule is being signed

Recessional music for the exit of the wedding party.
The Minister and Organist will be happy to assist in selecting hymns and music.  There are some suggestions later in this booklet.
Some couples have clear ideas of hymns and music.  Most do not.  For information and to assist you, this booklet has lists of hymns and music used regularly.  The Minister can arrange for you to meet with the organist to discuss music and suitable hymns well ahead of your wedding.
You should bear in mind that for some hymns there are various versions of the words.  It is advisable to use the words that are printed in the Church Hymnary when printing your Order of Service, so that anyone who is without an Order of Service can use a hymnary instead.  Check with the Minister if you are in any doubt.
Occasionally, couples wish to include a soloist, choir or instrumentalist in the service.  If you wish to do so, advise the Minister early in the wedding planning, and discuss your thoughts with the organist.  It is strongly advised that the organ is used to accompany hymn singing.
Piper: a number of couples arrange for a piper to play as guests arrive an d when the wedding party leave the church after the service.  Let the organist know if you are planning to have a piper; the organ and the pipes cannot play in the same key, and it will be important on the day that the organist and piper complement rather than compete with each other.
CDs: there are facilities for playing CDs.  However, your favourite track might not be suitable for accompanying the bride or wedding party to walk down the aisle.
Hymns
Here is a selection of hymns you may wish to consider:
(Hy – Church Hymnary; SGP = Songs of God's People; JP = Junior Praise)
Hy 137 – All Things Bright and Beautiful
Hy 577 – Christ Be Beside Me
Hy 519 – Love Divine, All Loves Excelling
Hy 528 – Make Me a Channel of Your Peace
Hy 212 – Morning Has Broken
Hy 182 – Now Thank We All Our God
Hy 530 – One More Step Along the World I Go
Hy 160 – Praise My Soul the King of Heaven
Hy 462 – The King of Love My Shepherd Is
Hy  14  - The Lord's My Shepherd
SGP 13 – Bind Us Together
JP  50 – Give Me Joy in My Heart
Music In and Out (Processional and Recessional)
Here are some suggestions you may wish to consider (A quick Google/YouTube search of the composer and title will give you examples of each you can listen to):
MA Charpentier            Prelude to the Te Deum
Josiah Clarke                 Prince of Denmark's March
George F Handel            Hornpipe from Water Music
George F Handel            Finale from Music for the Royal Fireworks
Felix Mendelssohn         Wedding March from A Midsummer Night's Dream
Johann Pachelbel           Canon in D
Henry Purcell                 Trumpet Tune
John Stanley                   Trumpet Voluntary
Giuseppe Verdi              Grand March from Aida
Richard Wagner             Bridal Chorus from Lohengrin
Lyle Kirk: Scale of fees for weddings
Pre-marital questionnaire   £   25
Organist        £   70
Church Officer                £   45
Church                           £ 400
--------
        £ 540
A deposit of £50 towards the heat and light cost is payable at the time that the booking is made. This will be refunded in the unfortunate event that the wedding arrangements do not proceed. Cheques should be drawn in favour of Lyle Kirk. A letter of confirmation will be issued on receipt of the deposit.
The balance of the monies for heat and light, and the fees due to the Organist and Church Officer, should be placed in separate envelopes and handed to the Church Officer on the night of the rehearsal. If the fees are to be paid by cheque, the Minister will advise the names of the Organist and Church Officer at the rehearsal.
Additional fees paid to the Organist
It is recommended Church of Scotland practice that if the service is recorded a supplement is payable to the Organist:
sound-recording 50% increase (to £105)
video-recording 100 % increase (to £140)